Sustainable Development Goals
Our contribution
We are concerned about the current and upcoming challenges our planet faces; therefore, our actions are aligned to support and contribute towards the Sustainable Development Goals (ODS) established by the United Nations Global Compact for 2030.

ODS 1. END OF POVERTY

Our goal is to promote one social project per year with a social organization of local impact. Therefore, we participate in the annual food collection campaign organized by the Food Bank, in the Epiphany Campaign of Caritas, for the donation of gifts, and in the UNICEF Humanitarian Campaign for aid to Ukraine.

ODS 2. ZERO HUNGER

We promote social volunteering in consultation with our employees and organize local impact activities. We work with food banks and have collected more than 150 kg of food for Rias Alta's food bank.

ODS 3. GOOD HEALTH AND WELL-BEING

Caring for our people is a fundamental pillar of our sustainability strategy, which translates into various initiatives such as providing fresh fruit in our offices and organizing team-building sports activities.

ODS 4. QUALITY EDUCATION

Training our personnel is the key to the development of our business model, based on cultivating constant innovation, digitalization, and teamwork. In that sense, we continue to contribute to these values by organizing guided visits to our installations in collaboration with various universities in our region.

ODS 5. GENDER EQUALITY

We continue to advance in compliance with our 1st Plan for Equality, Diversity, and Inclusion, hand in hand, while also providing continuous employee training on matters related to sustainability and equity. Driven by the idea of making our people management processes more objective and transparent, we have started a revenue register along with an income policy by the hand of a third-party consulting firm.

ODS 6. CLEAN WATER AND SANITATION

Our Curtis-Biomass Plant uses dry refrigeration technology, reducing our potential water consumption by 90%.

ODS 7. AFFORDABLE AND CLEAN ENERGY

Greenalia produces clean energy from exclusively renewable sources, and its business model contributes directly to climate change mitigation.

ODS 8. DECENT WORK AND ECONOMIC GROWTH

Constant employment improvement is a priority for the company in order to guarantee stable, safe working environments that favor the reconciliation of work and private life, the provision of fair and equal opportunities, and an enriching professional development. In this regard, we foster the employment of young people, being the average age of our organization is 36 years.

ODS 10. REDUCED INEQUALITIES

We collaborate with the Coruña Basketball Club and the Tordolia Sports Training Schools to improve access to sports, facilitating the inclusion groups on risk of exclusion.

ODS 11. SUSTAINABLE CITIES AND COMMUNITIES

In Greenalia, we work with expert archaeologists to identify and enhance the value of significant archaeological and natural elements in the areas of our projects so that they can be recognized and valued by society.

ODS 12. RESPONSIBLE CONSUMPTION AND PRODUCTION

The business model of our Curtis – Teixeiro biomass plant is an example of a Circular Bioeconomy. We exclusively use, otherwise discarded, forest residue as a renewable energy source to generate electricity. We promote comprehensive recycling practices in our offices and eliminate single-use plastics.

ODS 13. CLIMATE ACTION

We have increased our ambition and accelerated our commitments, anticipating our goal of achieving net zero emissions by 2040, ten years ahead of the global responsibility, through our adherence to The Climate Pledge. In line with this significant challenge, we are adhering to the Science-Based Targets initiative to reduce our Scope 1 and 2 emissions by 25% by 2020-2030 and measure our Scope 3 emissions.

ODS 15. LIFE ON LAND

We are guided by the precautionary principle, avoiding as much as possible all potential impacts on biodiversity. We voluntarily decided to be audited according to the most prestigious forest management standards globally, FSC®(Forest Stewardship Council®) and PEFC (Program for the Endorsement of Forest Certification schemes), SURE and ISO 14001 certified, and we prioritize purchases of certified wood.

ODS 16. PEACE, JUSTICE AND STRONG INSTITUTIONS

We made progress consolidating our Compliance Program, and we have a Responsible Channel, a public tool for communicating any contravention of our regulations in this area. We make half-yearly presentations with our results and regularly report on the challenges encountered in the area of sustainability through specific publications on our website.

ODS 17. PARTNERSHIPS FOR THE GOALS

We collaborate and maintain strategic alliances with the administration, local social associations, and relevant international organizations, such as the United Nations Global Compact, to progress toward sustainable development and work together to promote Human Rights.
2019-2023 Sustainability Strategy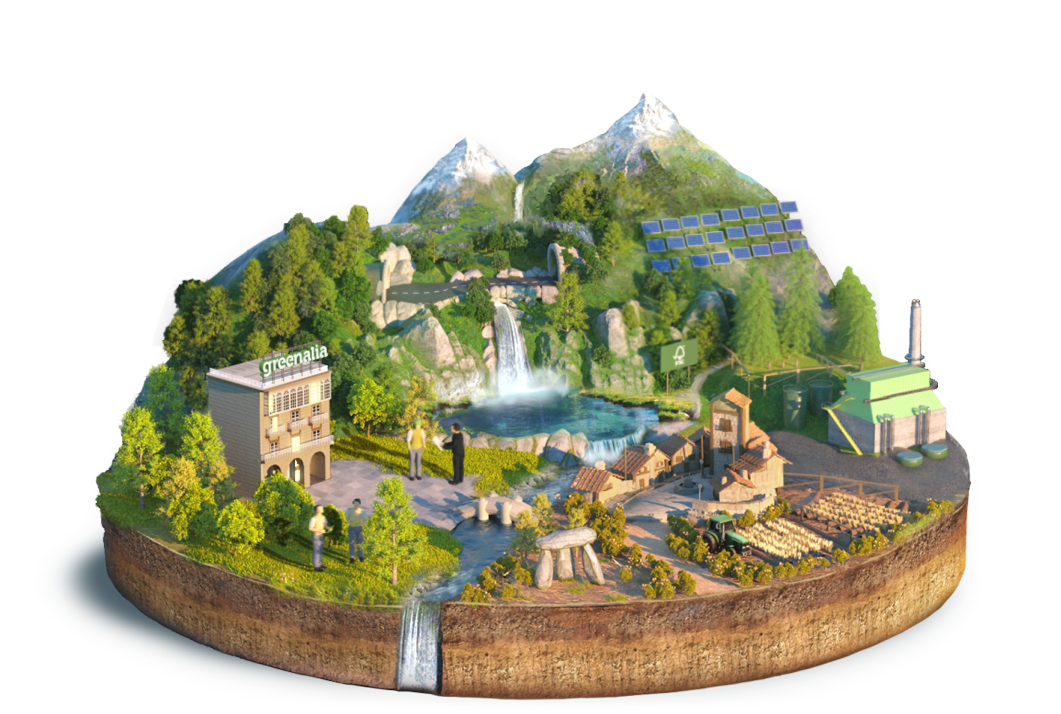 Our vision of sustainability lies on values intrinsic to our business, such as nonconformity, challenging the status quo and leadership, as well as the willingness of all areas of the firm to be drivers of change in achieving our goal of becoming increasingly regenerative.
Our aspiration to be more sustainable led us to develop our first Sustainability Plan 2019-2023, which includes specific actions structured around three main blocks: Environmental, Social, and Governance. 
Environmental
Wherever we operate, we protect biodiversity to the maximum. Our DNA is sustainable and renewable; we fight every day for a new energy model. To this end, we count on the support of multidisciplinary teams that carry out exhaustive evaluations and analyses prior to any intervention, driven to identify all those elements that must be protected and even regenerated. We also have a complete and ambitious program of relationships with the environment and the communities where we operate, which is part of our ESG strategy.
We safeguard biodiversity, cultural heritage and promote sustainable forest management.

We support the circular economy through biomass electricity production and waste management.

We collaborate with the energy transition investing 1,000 MEUR in electricity generation with clean energies.
Social
Caring for people and teams is a fundamental pillar of Greenalia's sustainability strategy. We apply our policy of continuous improvement to the quality of our workplaces, focusing on safety, diversity, equality, and the development and training of our people.
We concentrate our efforts on improving the well-being and health of our employees every day.

We promote social volunteering and organize activities to ensure a positive local impact.
Governance
Transparency and strong business ethics are hallmarks of our organization. We communicate clearly and professionally through our various channels (web, webcast, social networks, media, and others) to report to our stakeholders about the progress of our projects, our financial results, and any relevant information.